Sloped Roofing Systems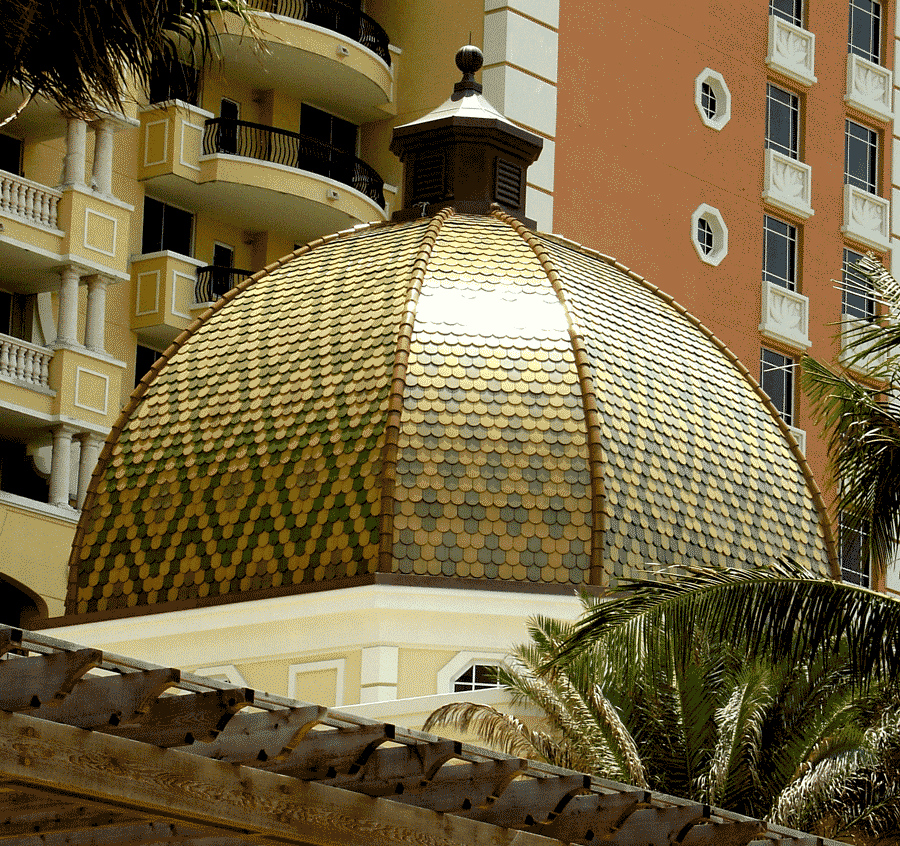 Aqualina, Sunny Isle, FL
"Not just a roof … distinctive, creative artwork"
Consider Biscayne for your next steep sloped roofing application. Whether it's a single family residence, multi-family residential community, or a commercial sloped roofing application, we offer systems for every budget, project and design consideration. With over 55 years in the roofing industry, we have established ourselves as the industry leader. All of our jobs receive the same top quality workmanship and materials and each customer is assured a First Class, Professional Experience.
Tile Roof Systems
Tile Roof PictureTile has been a common steep-sloped roofing material for centuries. There are many types of roof tile that can be categorized in several different ways. The shape and the composition of the material are the two common means of differentiating roof tiles. Tile such as Barrel, S-Tile and other rolled tile are considered "Profile Tile" while interlocking flat tile and plain non-interlocking tile are considered "Flat Tile". Concrete and clay are the two major compositions that are used in today's tile. Tile roofing systems come in a variety of shapes, colors and finishes. Personal choice and architectural design play an important role in the selection of your system.
Systems Installed: Insulated and non-insulated, mechanically fastened, mortar set and urethane foam applied, cement, clay,and ceramic roof tile, related sheet metal and accessories.
Manufacturer Affiliates: HANSON, MONIER-LIFETILE, LUDOWICI, ALTUSA, EAGLE
Warranties: Tile material warranties up to 50 Years. Labor and underlayment material warranties up to 10 Years
Shingle Roof Systems
South Florida Treatment CenterAsphalt roofing shingles have been the most commonly used steep-sloped roof material since the 1960's. Asphalt shingles are essentially manufactured out of three basic components: the asphalt, the reinforcement material and the surfacing. Most shingles have either a fiberglass or polyester reinforcement mat and a course mineral (granule) surfacing. Various styles, such as three tab or 3 dimensional, come in a full array of colors making asphalt shingle roof systems a very popular choice for aesthetic and architectural design requirements.
Systems Installed: Insulated and non-insulated, 3 tab and three dimensional shake shingle roof systems, related sheet metal and accessories.
Manufacturer Affiliates: CERTAINTEED, GAF, OWENS CORNING, TAMKO
Warranties: Manufacturer material warranties up to 40 Years. Labor and material warranties available up to 10 Years
Metal Roof Systems
There is a wide variety of metal roof systems on the market today. Metal roof panel systems are either factory formed, shop fabricated or field fabricated with portable equipment. Metal roof systems are traditionally divided into two categories: Architectural and Structural. Metal roof systems have been proven to outperform other types of sloped roofing systems in longevity as well as storm survive-ability. Metal panel roof systems can have substantially different aesthetic and performance characteristics, as well as different design requirements. It is important that the correct system be selected for each specific application. Some metal roofing systems can reduce cooling costs up to 40%.
Systems Installed: Insulated and non-insulated, standing seam, snap lock and mechanically seamed systems, structural roof panels systems, metal roof repair and restorations, metal shingle and tile roofs, wall panel systems, metal fascia and soffit, copper roofs, equipment screens, gutters and downspouts.
 Manufacturer Affiliates: ENGLERT, AEICOR, BERRIDGE, GERARD, METRO
 Warranties: Manufacturer material warranties up to 20 Years. Labor and material warranties available up to 10 Years
Other Sloped Roof Systems
Wood shake shingles and slate tile are two other commonly used materials in steep sloped roofing applications. Both of these systems have been very popular in certain regions of our country for many years. While not the most common roofing system in our region, these types of systems are commonly specified for the creation of certain architectural or aesthetic appearances.
Systems Installed: Insulated and non-insulated, hand split and sawn, fire resistant wood shake shingle roofs, custom slate roofing systems, related sheet metal and accessories.
Manufacturer Affiliates: GREEN RIVER VALLEY, WALDEN FOREST PRODUCTS, AMERICAN SLATE, TAMKO
Warranties: Manufacturer material warranties up to 50 Years. Labor and material warranties available up to 10 Years